All Learn with LCIE courses are run by Laura Thomas Nutrition. 
We have made the decision to retire some of our previous courses, so they are no longer open for enrolment. All those enrolled in our previous courses will have access until the 31st July 2023 to complete the lessons and download any materials.

Learn with LCIE is an online learning space and community which aims to support Nutrition Professionals in building a person centered, compassionate and inclusive practice
When working in the world of Intuitive Eating, Non-Diet approaches and body affirming care, there's so much to learn (and unlearn!) so it can be difficult to know where to start. Believe us, we've been there. We know how challenging it can be to find ways of working that align with our values of kindness, justice and care for our clients and community, especially in a weight-centric system. 
At the core of everything we do is our goal of providing better, more compassionate healthcare for all people, but we can't do that alone. As such, we're also big believers in supporting and empowering other clinicians; so it's part of our role as educators and advocates for the non-diet approach to share the things we've learned along the way. Throughout our Learn with LCIE program, we're serving up a big juicy slice of the essential literature, tools and skills that inform our practice as nutrition counsellors, with a side serve of our team's knowledge, experience and support along the way.
The Learn with LCIE program is made up of two series: The Nutrition Counsellor (NC) Series and the Weight Inclusive Guide (WIG) Series. Each has been designed to equip nutrition professionals with the knowledge, skills and understanding to support your professional development as a nutrition counsellor, and provide your clients with care that you can be proud of! Our NC series provides the fundamentals for building a compassionate, person-centred and body affirming practice. Our WIG series is aimed at giving clinicians the tools they need to help clients navigate health conditions through the lens of nutrition counselling. Read on to find out more about each series.
"I got so much from the LCIE Advanced Counselling Skills and Nutrition Counselling in Practice courses. Although I had already done some training in some of the topics covered in the courses, they really brought it all together and deepened my understanding of relevant therapeutic modalities like CBT and ACT in a clear and practical way. The courses also opened my eyes to important topics like embodiment, critical dietetics, weight stigma and trauma-informed care. The overarching values of Nutrition Counselling were present throughout both courses, and this provided a helpful framework that really resonated with me. The courses have informed my work with clients in a practical and client-centred way, so I would definitely recommend these courses to other nutrition professionals!"
- Maeve Hanan, Dietetically Speaking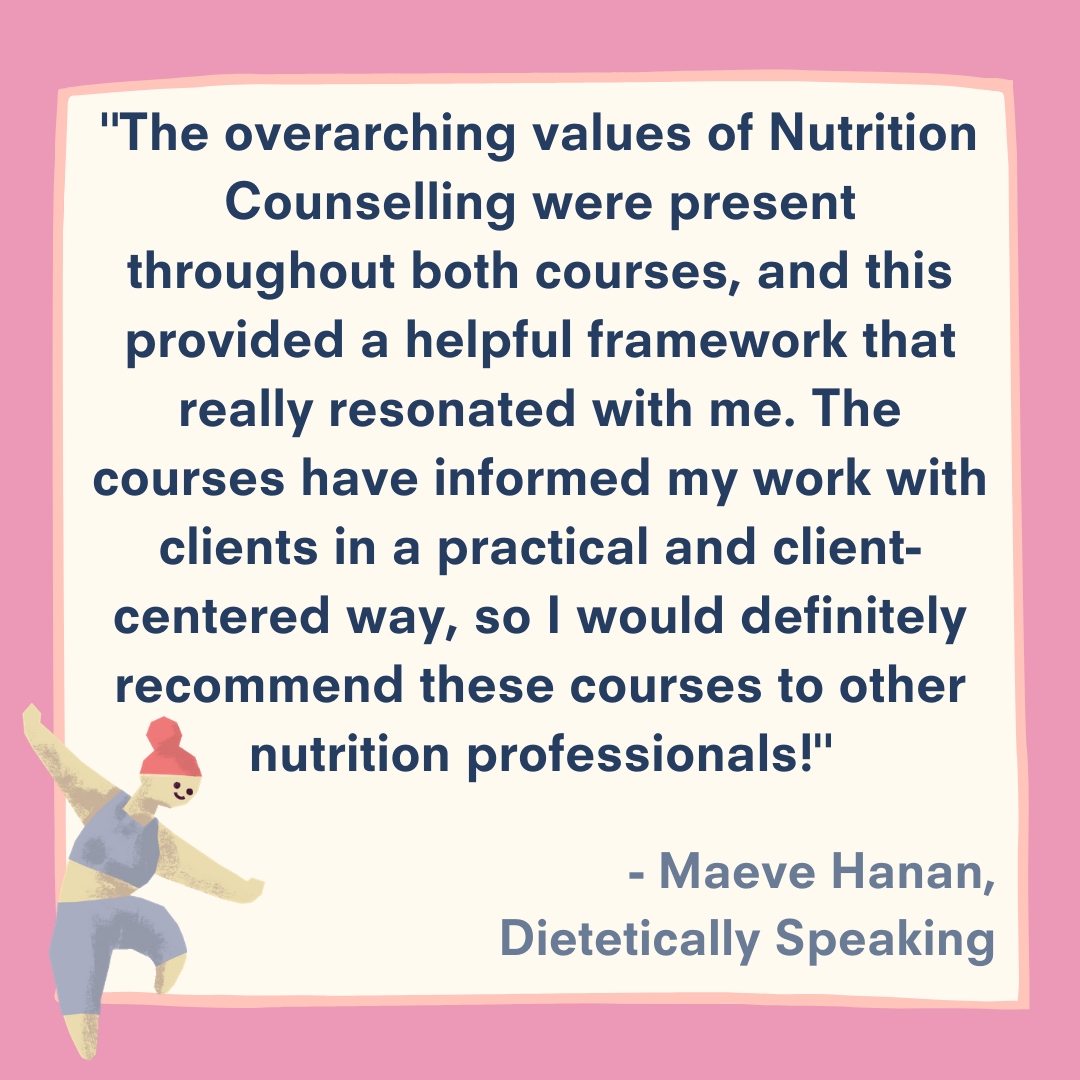 Raising Embodied Eaters Course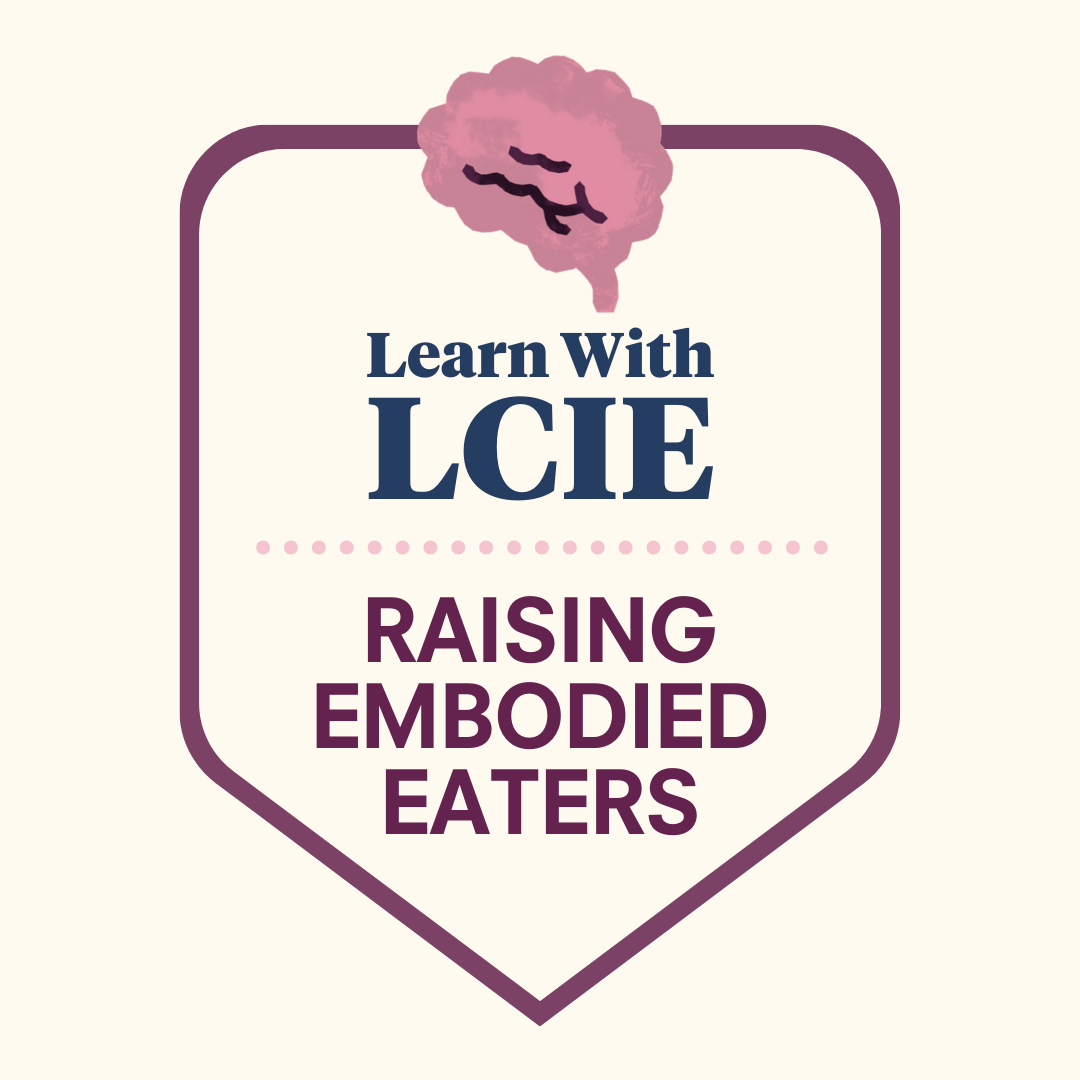 This course aims to equip nutrition and healthcare professionals (and anyone else involved with feeding kids!), with the tools to support an attuned and responsive feeding relationship, based on trust and respect, that lays the foundation for a positive relationship with food and their bodies for the years ahead. We believe that kids are gifted with an embodied trust in themselves; this course takes a feeding approach designed to help preserve those instincts.
Our course goes deep into both the science and practical aspects of supporting kiddos to have a positive relationship with food and their bodies. 
We begin by looking at how typical eating develops, and how common feeding practices (such as pressure or persuasion) can often lead to disconnection and disembodiment.
We'll then move on to look at more responsive feeding practices that prioritise embodiment, safety, agency, and connection.
After, we'll cover the role of anti-fat stigma and diet culture in nutrition and feeding and how these can skew how we view growth, and cause unnecessary and potentially harmful intervention. 
Finally, we consider Dr. Niva Piran's Developmental Theory of Embodiment as a lens for understanding how we can support kids and adolescents to continue to feel at home in their body.
About the Nutrition Counsellor Series:
We currently offer 3 courses in our Nutrition Counsellor Series to support professionals in their practice.
Our foundational course, Applying Intuitive Eating and Non-Diet Approaches in Practice, launched in early 2019, and has since seen hundreds of professionals learn about, and make a commitment to, non-diet, weight inclusive practice. But we also acknowledge that one course could never contain the breadth and depth of learning useful when working as a nutrition counsellor.
In 2019 we ran a series of in-person workshops bringing together counselling skills with nutritional science. We wanted to make these workshops more accessible to HCPs worldwide, and so the second and third online courses were born!
To develop these courses, we took the key themes from our in-person workshops, built on them and adapted the content for an online learning environment. Splitting the workshop into two courses enabled us to pack in even more juicy content, skills and learning for you to sip on, and allowed us to refine the modules into a logical, theory to practice model to support your learning.
As such, we recommend undertaking the courses in order, starting with 1. Applying IE and NDA in Practice, then completing 2. Advanced Counselling Skills, before rounding it out with 3. Nutrition Counselling in Practice. Hit the button below to find out about each of the courses in this series and how to enrol.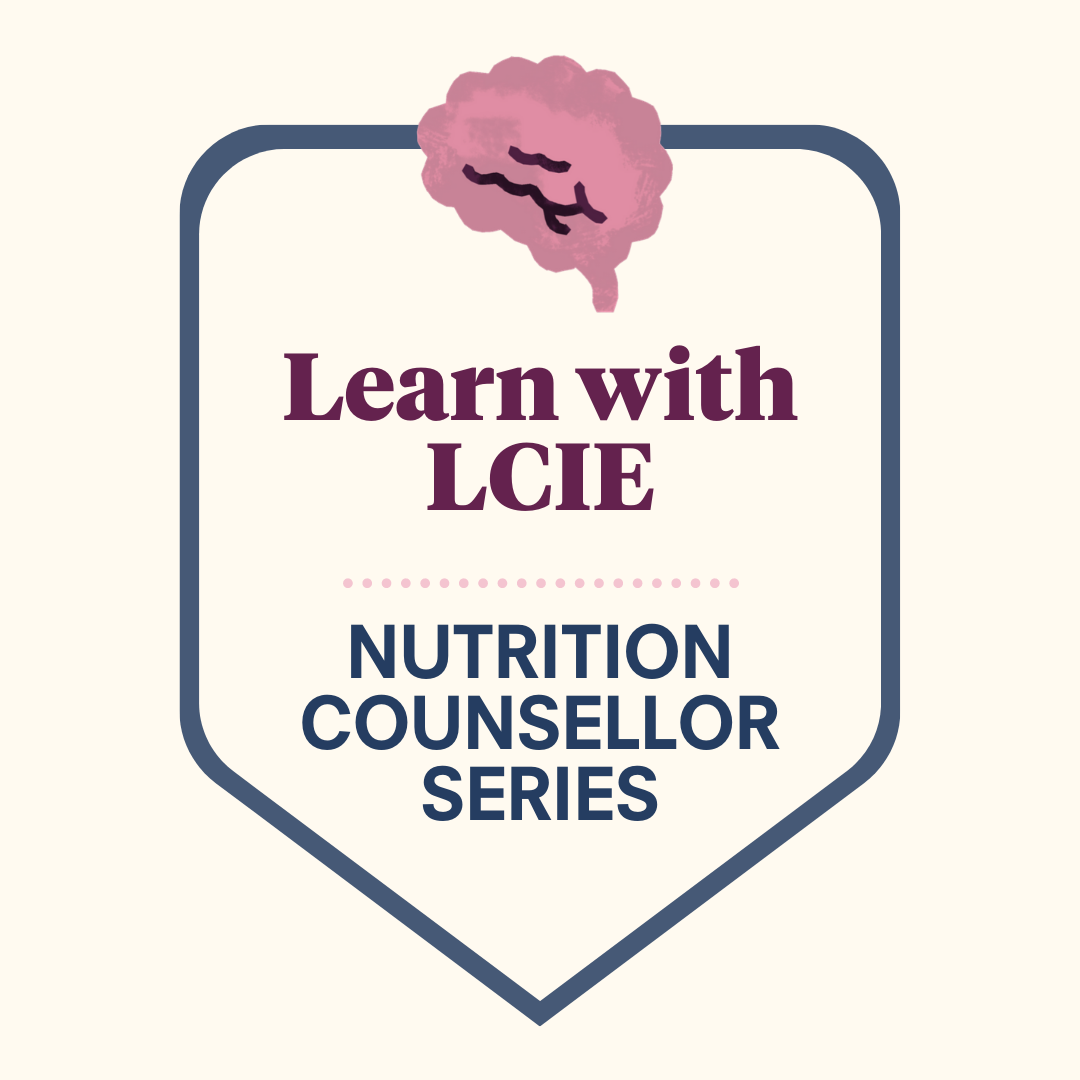 About the Weight Inclusive Guides Series:
We understand that adapting to a weight-inclusive, non-diet approach to healthcare can be a challenging process. Most of the resources available to healthcare professionals, while useful and evidence based, can be guilty of contributing to the weight-centric model we're trying to distance ourselves from. This is particularly an issue with hand-outs and resources designed for clients, as they can conflict with the non-diet approach and create a roadblock to effective care.
To address this, we've developed a series of downloadable e-books and accompanying webinars that give an overview of a range of clinical conditions through an evidence-informed, weight-inclusive, and non-diet lens. Taking an evidence-informed approach, we've sifted through the evidence and unpacked guidelines with a critical eye to bring together a comprehensive guide to integrating intuitive eating and weight-inclusive approaches into the nutrition care process. Topics include a range from metabolic syndrome and reproductive health to gastrointestinal conditions & more!
Who Learn with LCIE is for?
Nutritionists, dietitians and healthcare professionals who are involved in giving advice around food, eating and nutrition, and/or supporting folks with eating disorders, disordered eating or body image concerns. This program is not a substitute for appropriate qualification(s) in your relevant field, and you as a clinician are responsible for staying within your scope of practice. This program for informational and educational purposes only, and is not a substitute for clinical supervision or appropriate clinical registration.